Milestones
2012
Business of Detention included in the anthology Beyond Walls and Cages: Prisons, Borders, and Global Crisis (University of Georgia Press).
April 2009
Business of Detention receives a nomination in the student category at the Webby's. Vote for Business of Detention for People's Voice.
March 2009
Conceptualization of second interactive-investigative detention project.
February 2009
Business of Detention is a finalist in the student category for the 2009 SXSW Interactive Web Awards.
September 2008
Stokely Baksh with technical assistance from NYC-based web and database developer Asif Baksh redesigns site. A blog is integrated for updated coverage of the detention of undocumented immigrants.
August 2008
Renee Feltz talks about the Business of Detention on Democracy Now.
Featured on Mother Jones Online.

May 2008
Business of Detention wins the Melvin Mencher Award for Superior Reporting and the James Wechsler Award for Outstanding National Reporting.
April 2008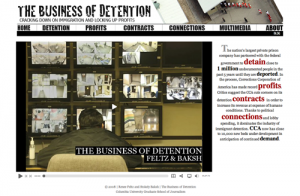 Business of Detention launched. This is the first new media, investigative master's project for Columbia University's Graduate School of Journalism.
January 2008
Renee Feltz and Stokely Baksh travel through Texas to report on detention centers, visiting Houston, Raymondville, Laredo, Austin, and Taylor.
October 2007
Conception of investigative project.