Visit us at our new project DeportationNation.org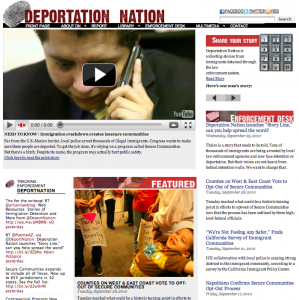 We're currently on hiatus at Business of Detention, but we're excited to announce our ambitious new project Deportation Nation.
DeportationNation.org is the home of an independent investigative reporting project that critically examines the increase in detention of innocent and low-level immigrant offenders as a result of enforcement programs mandated to target "dangerous criminal aliens."
We focus in particular on Secure Communities, a program that relies on police in local jails to enter arrest data into a joint FBI and Immigration and Customs and Enforcement (ICE) database. ICE officers then decide whether to assume custody of immigrants matched in the system and begin deportation proceedings. The program began in Texas in late 2008, is now in place in 200 counties in 21 states, and is set to be deployed nationwide by 2013.
The government's data reveals Secure Communities has already strayed from its mandate to prioritize the identification and deportation immigrant "level 1 offenders" who commit felonies such as robbery or murder. During the program's first year it identified 119,052 criminal aliens, leading to the deportation of 1,191 high level offenders and 14,615 immigrants convicted of lesser offenses.
How We Do it
Deportation Nation is reported by Renée Feltz and Stokely Baksh, and funded in part by a grant from the Soros Justice Fellowship Program of the Open Society Institute. Our project is pro-justice, and we we aim to be fair, accurate and comprehensive in our reporting.
This website includes print and multimedia stories published here and with our media partners, a blog, news feeds and an interactive library of useful data and documents. We embrace the use online tools for crowd sourcing, data sharing, and collaboration.
Most of our reports and graphics are free to republish. We simply request that you credit us and link to our website. Please do not edit our content or repackage it for sale. If you publish our work online, include all links. Email questions to deportationnation at gmail dot com.