ICE Promises Detention Reforms, CCA Announces New Detention Center
7 October 2009
2 Comments
On the same day that Corrections Corporation of America opened a new 500-bed immigrant detention center in Georgia, Homeland Security officials released a highly anticipated review of detention centers. Accompanied by recommendations and next steps, the review promises better federal oversight and health care in the largely outsourced network of prisons and jails that house a daily average of 32,000 people with pending immigration and refugee status requests.
"The government has recognized that it has a massive system with serious problems, and has identified steps to ameliorate the situation," said Linton Joaquin, the National Immigration Law Center's general counsel, one of several advocacy organizations to respond to the report with mixed reviews. "However, the steps they propose taking in the short and intermediate term are limited compared to the size of the problem.
Other advocates appreciated the review's distinction that that "the majority of the population is characterized as low custody, or having a low propensity for violence," and yet are housed in prison-like conditions. One of the review's recommendations is to expand Alternatives to Detention programs so that nonviolent detainees can be housed in residential facilities or monitored with electronic ankle bracelets. Some reports indicate detainees could be housed in converted hotels – which would be a return to ICE's roots in the 1980s.
The reviewers note that the Detention and Removal department of Immigration and Customs Enforcement has "limited in-house expertise on this subject matter" and that "the establishment of the Office of Detention Policy and Planning is a critical first step," which suggests the expansion of alternatives take a while.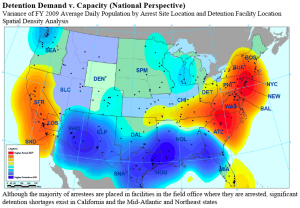 Both reduction of the detainee population and legally enforceable standards were called for by the National Immigration Law Center in its July 2009 report, "A Broken System," as essential to fixing the nation's broken detention system, but ICE's review makes no promises regarding these recommendations. A section of the report focuses on the shortage of detention space that is close to key arrest sites (click on the map at left to read this section of the report).
The nation's two leading prison companies have remained quiet since the report's release, and ICE did not say whether it had consulted CCA or Geo Group during its review. During recent conference calls with investors, CCA officials noted that in the Obama administration's proposed 2010 budget "there was no significant changes to funding as it relates to our book of business."
Indeed, ICE's report made no indication that there will be a decline in immigrant detainees under the supervision of private companies that own and operate much of the detention system. According to the review, approximately 88% of the detainee population is held in 69 facilities. Fifty percent of the detained population is in 21 of these facilities – of which seven are Service Processing Centers owned by ICE and operated by the private sector; seven are dedicated Contract Detention Facilities owned and operated by the private sector; and seven are dedicated county jail facilities, with which ICE maintains intergovernmental agency service agreements.
The report calls for expert federal officials to be placed on-site to oversee detention operations at these facilities, to intercede as necessary, and to ensure that there are appropriate grievance and disciplinary processes.