CONNECTIONS
25 August 2008
No Comment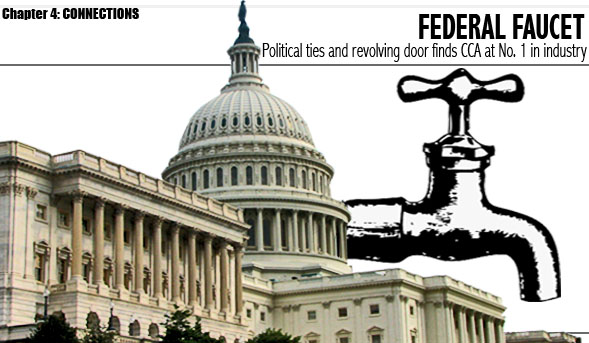 Washington, D.C. – CCA plays the game of politics like a pro. After all forty percent of its revenue comes from federal contracts.
The company backs key politicians who support an immigration crackdown, and has intensified its lobbying in order to influence those still on the fence. For good measure, it hires former prison and immigration officials to coordinate its federal relations.
When Republicans and Democrats failed to agree on comprehensive immigration reform, CCA backed lawmakers who found common ground on the issue of funding detention. 2007 was the first year CCA's Political Action Committee, otherwise staunchly Republican, donated $15,000 to the Democratic Congressional and Senatorial Committees, according the Federal Election Commission. However, the company gave twice this amount to the GOP.
The rest of CCA's political giving went directly to lawmakers who determine detention funding through their positions on the appropriations committee in the House and Senate. In 2008, the committees approved a $2.3 billion budget for ICE detention and deportation of undocumented immigrants, including funds for an additional 4,870 new beds.
More than half the senators backed by CCA's PAC are on the appropriations committee, and four of them are on the subcommittee on Homeland Security. The company was most generous with the minority ranking member, donating $5,000 each to Thad Cochran (R-MS), and the Senate Minority leader, Mitch McConnell.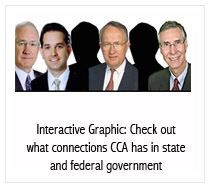 In 2006, it gave $1,000 to committee member, Loretta Sanchez (D-CA), who nonetheless remains critical of mass detention based.
"In Orange County, we've had electronic monitoring devices and more supervision when we've let people out of detention centers, its been a most cost effective way to deal with a certain portion of the population, especially women with children, the elderly, and the ill," said Sanchez. "I think there are ways we could use appropriate alternatives to keep the costs down and still monitor where people are."
One CCA-backed appropriations committee member deserves special mention. Former Tennessee governor, Senator Lamar Alexander (R-TN) received $31,200 from 2003-2008 from the Nashville-based company and its employees, spouses and their subsidiaries, according to Federal Election Commission documents. Alexander's history of supporting CCA includes endorsing its failed bid in 1985 to take over the Tennessee prison system.
In the House, CCA's PAC gave $5,000 to Rep. Hal Rogers (R-KY), who sits on the Subcommittee on Homeland Security Appropriations. Another $2,500 went to fellow committee member John Carter (R-TX) who is also on the Committee on Homeland Security. Carter's district is where CCA's T. Don Hutto family residential center is located. He is a major advocate for "a system of 100 percent catch and return."
Republican members of the House Immigration Reform Caucus reaped CCA's support for backing the Secure America though Verification and Enforcement Act. The Act calls for expediting "the removal of illegal aliens by expanding detention capacity."
In 2007, the company fought a shareholder resolution that requested semi-annual reports on the company's political contributions and expenditures.
"Absent a system of accountability, corporate executives are free to use company assets for political objectives that are not shared by and may be inimical to the interests of a company and its shareholders," argued Sisters of the Blessed Virgin Mary Investment Program, who introduced the failed measure to force CCA to disclose payments it makes to trade associations, political recipients and soft money entities such as 527s.
To influence lawmakers who did not receive direct donations, CCA has spent millions on lobbyists. They got what they asked for.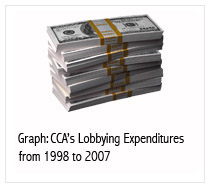 In 2005, when the immigration crackdown got underway and lawmakers debated how to meet the need for detention, CCA paid close to $3.5 million for lobbying focused on immigration and national security. One of its key lobbyists was Phillip J. Perry, son-in-law of Vice President Dick Cheney, who was appointed general counsel for DHS. The next year CCA reported its highest revenue ever.
As the immigration debate continued in 2007, CCA spent $3.25 million lobbying members of Congress to approve funding that would ultimately lead to increased spending on immigration detention.
It paid the lobbying firm Akin, Gump $150,000 to lobby on immigration reform legislation, according to senate disclosure forms.
CCA's CEO John D. Ferguson was the vice president of the industry lobby group, Association of Private Correctional and Treatment Organizations, that works on its own to " educate key elected officials about our membership and the whole spectrum of vital public services we provide." The group created a privatization caucus in 2002 to push its federal legislative agenda, and in 2003 it met with more than 50 congressional members and their staff.
To complete the seamless connections between CCA and its federal funders, the company has hired former government officials to head key programs.
CCA's Senior Vice President Mike Quinlan is credited with obtaining its credibility among federal clients after coming to the company with a 22-year career in public sector corrections and serving as Director of the Federal Bureau of Prisons from 1987 to 1992.
"The collective corrections experience of CCA's operations and management team, much of it gained during distinguished careers in federal or state corrections systems, is one of the most impressive in the country," said Quinlan on the company's website.
In 2004, after nearly 25 years with the Immigration and Naturalization Service, Kim Porter joined CCA as Senior Director of Federal Customer Relations. Porter's primary responsibility is to manage CCA's relationship with ICE. Anthony Odom came on board to manage CCA's relations with USMS after he retired in 2004 from a 32-year career with the agency.
CCA's general counsel, Gustavus Puryear IV, could give the revolving door another turn. Puryear made headlines this year when President Bush nominated him for a federal judge seat in the Middle District of Tennessee, where CCA is headquartered. Puryear has worked as a speech writer for Vice President Dick Cheney. He testified during a Senate hearing that he would recuse himself from cases involving the company.